How great leaders use communication as an agent of change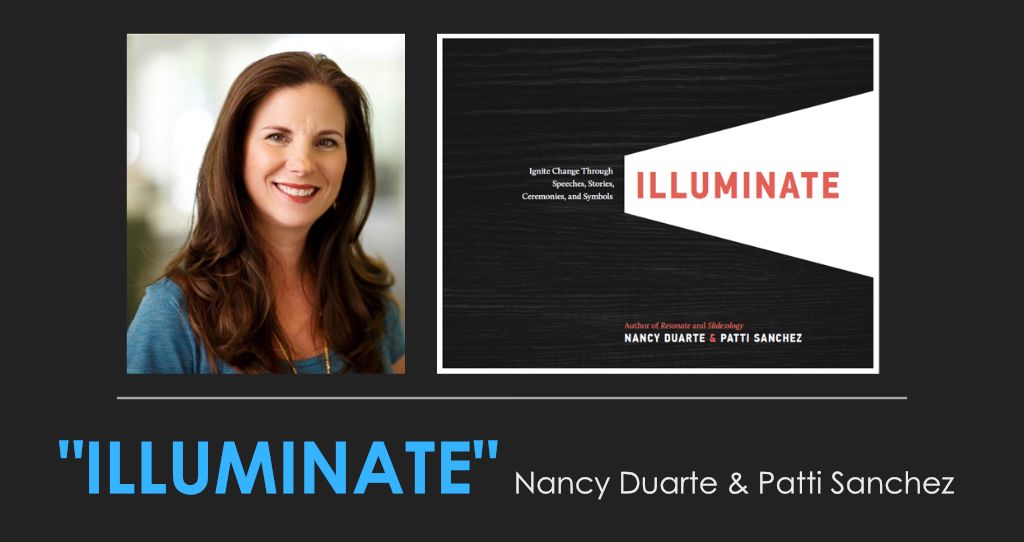 Highlights for Leaders by Olwyn Merritt
Change is both scary and exhilarating in equal part. Many of the leaders who I coach are experiencing significant change in their organisations. They often are very clear about their goals in transforming their organisations, but they can face challenges in their communications to those they have to lead or influence in these testing times.
Nancy Duarte's excellent book "Illuminate" offers some great examples of leaders who have excelled at communicating when the chips were down for their organisations. Here are my top ten insights from Duarte's book for leaders, keen to improve how they tackle communication challenges during significant transformation.
~~~~~
1. Leaders are torch bearers
Great leaders visualise the journey through the eyes of others. They bring meaning, purpose and clarity to the whole reason for the change in the first place. They become the torch bearers.
When taking risks you have to persuade other people to come along. Some of your fellow travellers will jump on and others will put up roadblocks to slow things down. Maybe they prefer things the way they are. They'd rather stick with what they know rather than jump into something new.
Leaders move others forward. Their role is to light the way for their team. Leaders don't just anticipate the future. They shape it and make it happen. Leading people requires not only recognising the need for change but also visualising a brighter future and communicating it in a way that motivates others to follow you there.
2. Leaders create the over-arching story
Knowing where to go is important but explaining why and how to get there is even more important. Because change is frightening to most people, leaders need to narrate the journey from where we are to where we need to be with clarity, conviction and empathy for those who have to travel that path.
3. Leaders explain the Roadmap
Duarte depicts transformation in terms of an adventure.  The "travellers" (your people) will have to start in a deep ravine and make their way to the top of a tall mountain far away, with formidable dangers and treacherous passages in between – all to help you realise your vision. It will not always be a smooth path from point A to point B.
While you may see the pathway towards a brighter future very clearly, others may not. Stories have the power to convey transformation. Epic stories such as The Odyssey, Beowulf and The Hobbit all follow a story structure as a natural arc of transformation. The protagonist leaves their familiar territory on a mission to seek a reward. We see their plight, we understand their fears. They are tested and challenged but they achieve their goal, weary but wiser. The narrator of these epic tales explains events and interprets their meaning in language that their audience will understand.
4. Leaders describe the Stages of the Journey to their people
Duarte maps five stages to any journey of transformation which follows a story structure.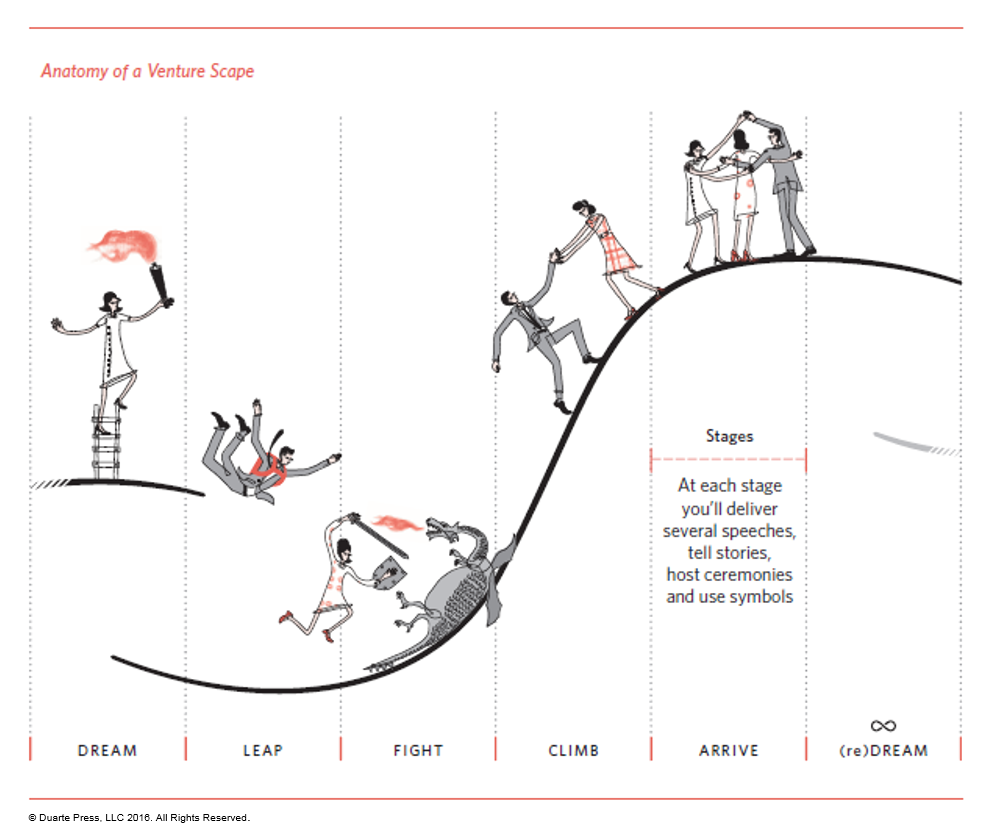 Stage 1: The Dream – and what it will take to make the dream come true
Stage 2: The Leap – travellers have to accept that things won't be the same and that they will have to make sacrifices
Stage 3: The Fight – your people's resolve will be tested
Stage 4:  The Climb – your people will find it tough and it will take time to get there
Stage 5: The Arrival – your people will make that final brave push and arrive at their destination, seize the reward that you've promised and their success will be celebrated.
This becomes a cycle – it will be followed by review and preparation for the next chapter.
5. Leaders narrate the story
The role of the leader is to control, convey and frame the story of your venture. As the torchbearer, you need a communication toolkit with all the necessary stories, symbols and ceremonies that will galvanise your people and keep them on course.
Duarte's book provides wonderful case studies of exactly what stories, symbols and ceremonies were used by well-known leaders such as Lou Gerstner (Chapter 2: The Leap), Howard Schultz, Jack Ma and  Christine Lagarde (Chapters 3 and 6: The Fight), Alan Mullaly (Chapter 8: The Arrival) and Steve Jobs(Chapter 9: Re-Dream) to enable transformation in their organisations.
6. Leaders use motivating and warning communications to strengthen commitment
Duarte offers some very practical strategies, including the leader's need to understand the mind-set of their people. She explains that in times of change, many people are motivated one minute and resistant the next.
Her tip is to use MOTIVATING communication when your travellers are energised and feeling keen about pursuing the vision. Even though they are committed, she recommends that you keep them uplifted with extra encouragement to stay engaged.
On the other hand, when travellers seem stuck or are heading in the wrong direction, use WARNING communication. They may resist for good reason but warning them about the possible negative outcomes of staying put or straying from the course can push them away from resistance.
An example of motivating communication is the "Savour the Win" story from IBM's founder, Thomas Watson Sr. used during the Great Depression during a 1933 sales meeting:
"The officers of the One Hundred Percent Club have (joined our) business since 1929. They found out that they had to get out and hustle. They had to do things right. They had to be on the job…..some of the older men came into the business in boom times…- they learned to sail the boat in smooth water…There never was a good sailor developed in fair weather. It is during storms when the seas are running high and the going is rough that you develop your sailors. And that is how you develop men. You have to test men just as you test metal. And, by jove, men are getting the test today…As long as you run on that basis, whether in good times or bad times, you are running on the right basis."
An example of warning communication cited is Jack Ma CEO of Alibaba "Learn the Lesson" story:
"(Businesses) believe that shareholders are number one. You only think about how to make your stock go up. But no shareholders can be trusted…Most shareholders are share traders; how can you trust them? So rely on your customers because they stay with you, grow with you, and give you money, hope and support. Secondly, rely on and serve your employees because…they make all your dreams come true."
7. Leaders use speeches and stories at every stage of the journey
Duarte offers very concrete examples and advice for using such tools along the way to encourage people forward. For example, she recommends using a very practical framework for the three act persuasive speech:
Beginning: What is: Paint a realistic picture of the current situation and what's at stake if your people stay there and do nothing.
Middle: What could be: Introduce a new potential future into the present reality. Contrast the gap between what is and what could be so people can see the transformation required.
End: What the better future looks and feels like: The imbalance is resolved and the speech ends with everyone understanding the reward they'll gain by creating a better future.
8. Leaders create rites of passage to signal key stages of transformation
Ceremonies help people understand and process new messages and ways of thinking, making the moment more likely to be remembered. Duarte cites great examples. When PeopleSoft were acquired by Oracle, a ceremony signified the end of an era for the company, with a display of old memorabilia. Apple raised a pirate flag over the Macintosh building so they would be reminded that they were rebels at heart and to keep that spirit burning.
9. Leaders use symbols to sear the meaning of these events into our minds
Symbols can be visual, auditory, spatial or physical. Duarte listed numerous examples of such symbols.
Spatial: Martin Luther King gave his famous speech in front of Abraham Lincoln's statue, reinforcing the premise of the rights of all Americans and not just the rights of whites.
Visual: Examples are Starbuck's Commitment Pledge Wall, Pixar's long line of pictures and Oscar statuettes in its reception area, and Goggle giving their new employees a rainbow propeller hat with Noogler on it so that people can identify and welcome these New Googlers.
Auditory: Amazon employees ringing a bell every time they achieved a sale.
Physical: Steve Jobs having all the makers of Macs hand-sign each one, inside the computers like artists of old.
In fact, leaders use speeches and stories, ceremonies and symbols at every stage of the journey.
10. Leaders find ways to acknowledge reaching their destination
Endings are just as packed with feeling as beginnings. Providing an opportunity to channel that emotion is important for people – whether it's a cheer and a clap, or just savouring all the memories of such a journey. The process of making something a reality especially against great odds can be hugely uplifting for all of those involved. By recounting the courageous actions, honouring their achievements and celebrating the determination and camaraderie forged during those difficult days, people can feel inspired. When they are acknowledged sincerely for their efforts, they will feel and that all the effort and personal sacrifices were worthwhile.
~~~~~
Duarte provides a truly inspiring read of the numerous ways in which leaders communicate powerfully. She describes in detail how they use stories, ceremonies, symbols and speeches to keep that desire and drive burning until they reach their destination. Any leader treading a similar path today would do well to dip into this treasure trove to learn from those who have succeeded and more importantly, learn practical tips they can apply to their own journey.
You can buy a copy of Illuminate by following the link below. You can find out more about our work, projects we have supported and more tips and articles elsewhere on this site.  If you would like support and practical help in transforming your leadership and team journey we would love to hear from you.
Olwyn Merritt
Pure Potential Development Limited