An evening with Amal Clooney and the CHIEF Community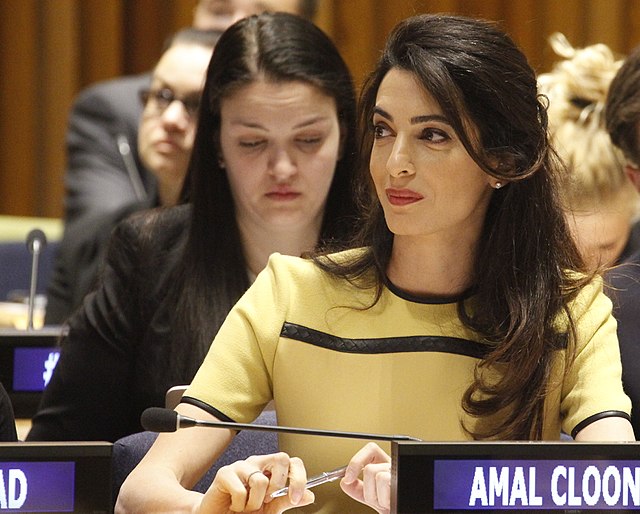 One of the benefits of being in the CHIEF Community is the quality of speakers they invite to their clubhouses. Last night, I was totally inspired by Amal Clooney, Human Rights Advocate. Here are some of the key messages that I took away from her session with us. I hope they inspire you too.
What kind of impact?
Amal chose law as a way for her to advance change. She encouraged us to use our talents, our network and our experience to make a difference. Ask yourself, what kind of impact do you really want to have? Follow what you care about and while others may question the wisdom of that choice, it will ultimately bring you a sense of fulfilment. Her experience of pro-bono work when she was a young corporate lawyer drew her to represent the most disadvantaged and ultimately drew her to advocate for those impacted by war crimes.
The Power of One
One of her key messages to us was that all progress is made by individuals not huge organisations. She illustrated this point using courageous Yazidi women as examples. The first was an illiterate woman who saw her daughter raped and killed by an ISIS commander. She ultimately showed amazing guts and bravery to come to the courts in The Hague and ensure that this man was sentenced for the war crimes he committed. At the time of the assault and killing, he held all the power. In the courtroom, her courage and composure gave her the power when he fell to his knees in disbelief at the sentence. Amal's point is: don't stand on the side lines. You may feel that there is a limit to what one person can do but she believes that there is something each of us can do. The main thing is to step forward and do it.
Stay Vigilant
Amal cautioned us about taking human rights for granted. These rights have taken more than a hundred years to achieve and have been eroded in parts of the world quite significantly in the last year, for example the right of girls in Afghanistan to an education and the rights of women in the US to have control over their bodies. As a Lebanese refugee to the UK, Amal knows only too well how easily the tide of fortune can favour you or rob you of all future opportunity.
What Next?
Amal, with her poise, warmth and quiet determination has inspired me to dig deep to find what and how I can impact an aspect of social change close to home and a cause close to my heart. What a terrific role model Amal has proved to be. She leads with grit, determination and grace. No wonder Amal means hope in Arabic!
CHIEF
As someone who has benefited hugely from having supportive mentors throughout my career, I am delighted to be chosen as one of the Core Guides for CHIEF in the UK.  CHIEF is a private network for the most powerful women in leadership designed for women in the C-Suite, senior executives, and accomplished VPs. Through this network, they strengthen their leadership, amplify their influence, and pave the way to bring others with them.
My Core Guide role is to facilitate these peer advisory boards and help members navigate and accelerate their journey as a leader in a hyper-curated peer group. These senior executives come from diverse backgrounds, industries, and organisations – from FTSE350 companies to successful start-ups and impactful NGOs. You can find out more at https://chief.co.uk/
Olwyn Merritt
Founder and Director, Pure Potential
Image kindly provided by Wikimedia Commons